When travelling from place to place, you need a reliable travel mug to keep your drink fresh and tasty. There is nothing worse than feeling sleepy on the road, opening your bottle for a hot drink, only to find it has become bland and diluted. A good travel mug will help keep your hot drinks piping hot, and cold drinks ice cold for your pleasure. Plus, travel mugs should be convenient to use while on the road – a simple hand motion should be enough to open it up and drink from it, rather than having to take time to unscrew a cap. Not only is it useful for those who commute long distances, but a reliable travel mug is also handy for everyday use.
With so many travel mugs out there in the market, which ones are the better ones you should look out for? There are many factors that separate reliable ones from the mediocre. For example, the material of the travel mug, its design and comfort to hold, and level of maintenance. Here, we have compiled a few travel mugs that stand out in the market. Read on, and you may find one that suits your fancy.
1. Yeti Pint Mug – All-Around Useful Travel Mug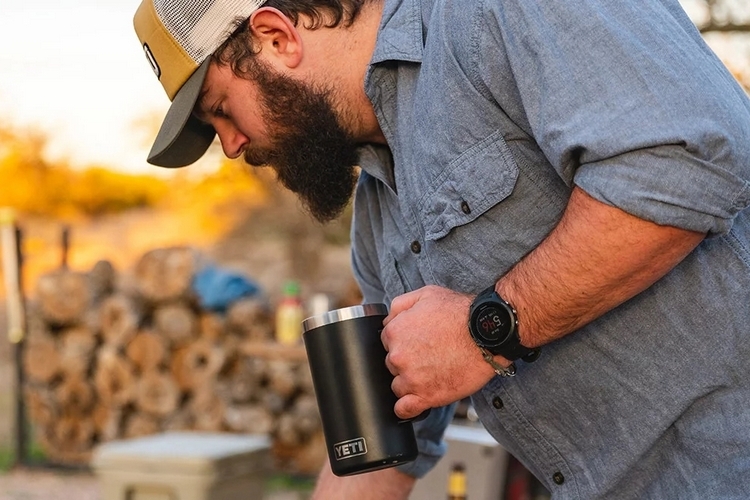 Yeti mugs have a thick and sturdy design, but they are still really comfortable to hold and use. They stack well together, so you can neatly keep them in your cupboard if you decide to buy more than one. Most Yeti travel mugs have a matte exterior, with a transparent sealed lid made out of thick plastic that allows you to see what drink is in there and how much is left. It works well as a vacuum travel flask, keeping your drink hot for several hours. plus, it is also dishwasher safe, making it very easy to maintain. A solid choice for travelers and those who need a reliable travel mug.
Other Yeti travel mugs can be even bigger, to hold more liquid and keep you sipping for longer. Such travel mugs even come with a handle, just to make sure you can hold it well. However, we find that those are a bit too much, and definitely will not fit in most cup holders. Then again, if you are looking for one that has a dual-slider magnet mouthpiece for that extra cool factor, Yeti pint travel mugs might be for you.
2. Contigo Autoseal Mug – Best for Road Trips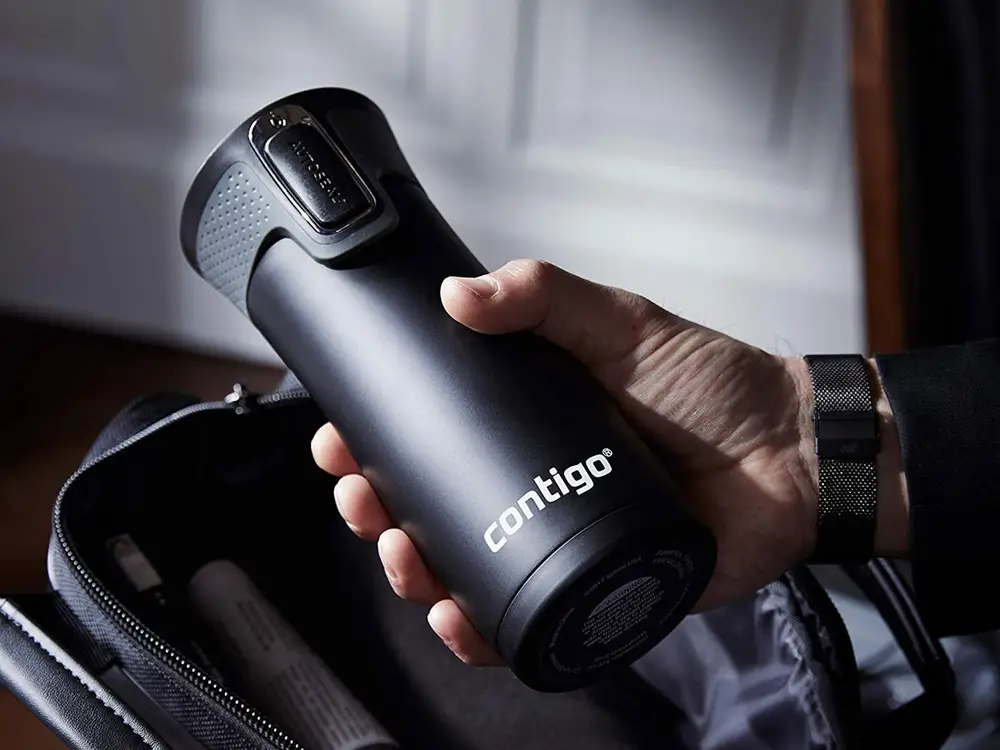 Compared to Yeti, Contigo travel mugs are more slip and narrow. This works perfectly for those on the road, as Contigo travel mugs will fit in almost all cup holders in vehicles. Furthermore, these travel mugs are extremely easy to use and drink from – with a push of a button on the side of the lid, the mouthpiece will pop up, allowing you to drink from it by just using one hand. Another reason why Contigo travel mugs are popular among drivers travelling the distance, as they do not need to take their hands of the wheel.
Some specially designed Contigo travel mugs also have straw-compatible lids, if you prefer drinking from a straw. Those travel mugs, while still retaining their thin and narrow design, comes with an extra lid with a metal straw. The lid is also tightly sealed, so you can feel safe simply sipping from the straw as you go along. Just be sure not to tilt it upside down!
3. Stanley Vacuum Pint – A Sturdy Vacuum Flask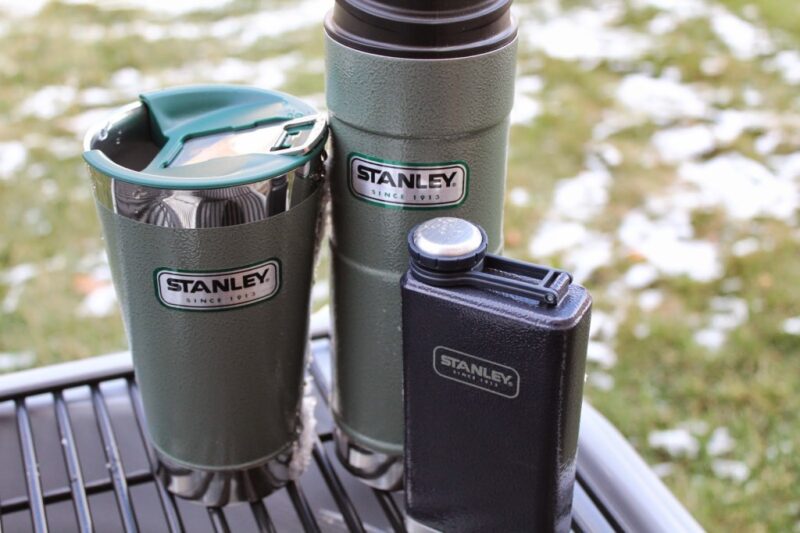 Another travel mug that will last you drink for hours is the Stanley Vacuum Pint. While this is more of a thermos rather than a cup, we decided to include it here because of its similarity in design and function. A cup shape with a sturdy base, Stanley mugs are usually made of very tough materials like steel and other metal. You might commonly see them in construction sites and other rugged areas, due to the tough material design of the mug. You will never have to worry about chipping or denting back, as these cups are one of the strongest and most unbreakable out there.
In terms of keeping your drinks fresh, Stanley travel mugs have vacuum seals that keeps the liquid at its intended temperature for a long, long time. Many users of the Stanley travel mug claim their hot drink stays warm for up to 40 hours, and the ice in their cold beverages does not melt for up to a day or two. This travel mug is also dishwasher safe, so you can chuck it alongside your dirty dishes every once in awhile. One major downside of Stanley travel mugs is its weight. Since it is made of tough thick metal, it can be quite weighty to lug around – especially a big-sized one filled with liquid. Clearly, this travel mug is meant more for the ones on the road, or in a craggy work environment.
4. Fellow Carter Move Mug – Our Pick for The Best Travel Mug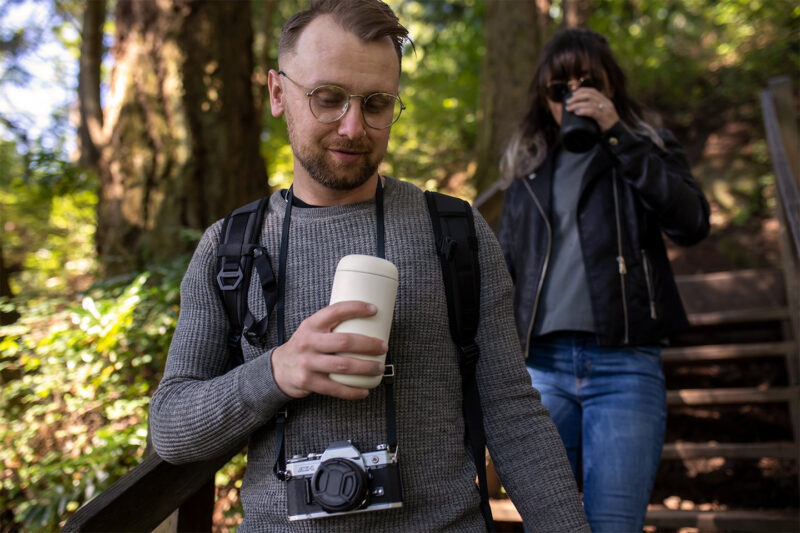 If we really had to choose, Fellow Carter Move Mug will be our recommendation. These travel mugs encompass all aspects of a great tumbler – it is lightweight and easy to carry, and fits in cup holders. The main material stainless steel with a ceramic coating, which is one of the best for heat retention. The mouthpiece has a built-in splash guard, and a tightly sealed lid prevents accidental spillages and leaks if the travel mug gets knocked over. It comes in 3 sizes, 8 oz, 12 oz, and 16 oz, as well as many interesting colors such as matte black, cargo green, buttered popcorn, and even corduroy red.
With so many colors and sizes to choose from, combined with its simple and minimalistic look, brings about an elegant travel mug that you can use anywhere and everywhere. Fellow Carter has outdone itself with their travel mugs, and it is easily a safe choice for anyone looking to get a travel mug. While on the road or simply moving from place to place, Fellow Carter Move Mug is very handy and reliable in keeping your drinks fresh.